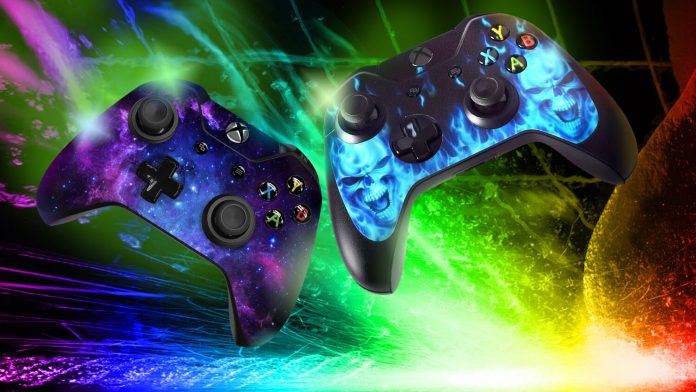 If you're using a wireless bluetooth Xbox One controller for your Gear VR, you just might find the standard black look of the controller a little bland. Rest easy, though, because that look is a thing of the past with the Xbox One controller skins that you can easily buy in online stores or on Amazon.
They are available in a range that will boggle your imagination
You can have a controller covered with epic starscapes, national flags, even your favourite superheroes – or villains. Or go for an elegant look that features brushed metal or dark leather.

Get closer to the spirit of your favourite games with an epic themed controller that will have your friends competing with you to have the coolest controller on the block.
These skins are essentially decals that you can simply paste on to your controllers
They use a special adhesive that will leave no unpleasant or sticky residue if you ever decide to remove the skin. Over that comes a beautiful photorealistic print. Finally, the print is surfaced by a laminate that is very scratch resistant. Get yourself one of these Xbox One controller skins, and your controller will never look the same again… quite literally.
Here's a selection of some of the more interesting skins on the market today…
Xbox One controller skins – The Space Nebulae Skin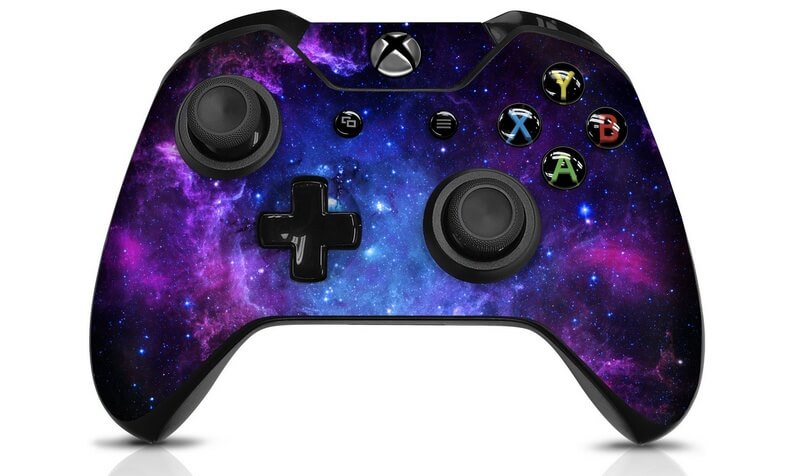 This one is one of our favourites, with a scattering of stars and blue and purple nebulae. Soar into those space opera VR epics with a controller in your hands that is really worthy of controlling a state of the art starfighter. The skin fits the controller perfectly, and brings it a futuristic look that was definitely lacking before.
Check out the best Space Nebulae prices here
Xbox One controller skins – The Palm Trees
If space nebulae leave you cold, the Palm Trees could been the skin for you. With tall palms silhouetted against restful pink sunset colors and soft clouds, this skin has a cool elegance that will have your friends unconsciously reaching for it.
Check out the best Palm Trees prices here
Xbox One controller skins – National Flag Skins
Want to make a patriotic statement? Or do you just like Captain America? There are Xbox One controller skins that feature a range of national flags. Stick these on your controller and make a statement of your loyalties, or simply use your controller with the latest Marvel game release. There's nothing like wreaking havoc with Captain America's shield when your controller actually looks the part.
Click here for the best flag skin prices
Xbox One controller skins – Blue Daemon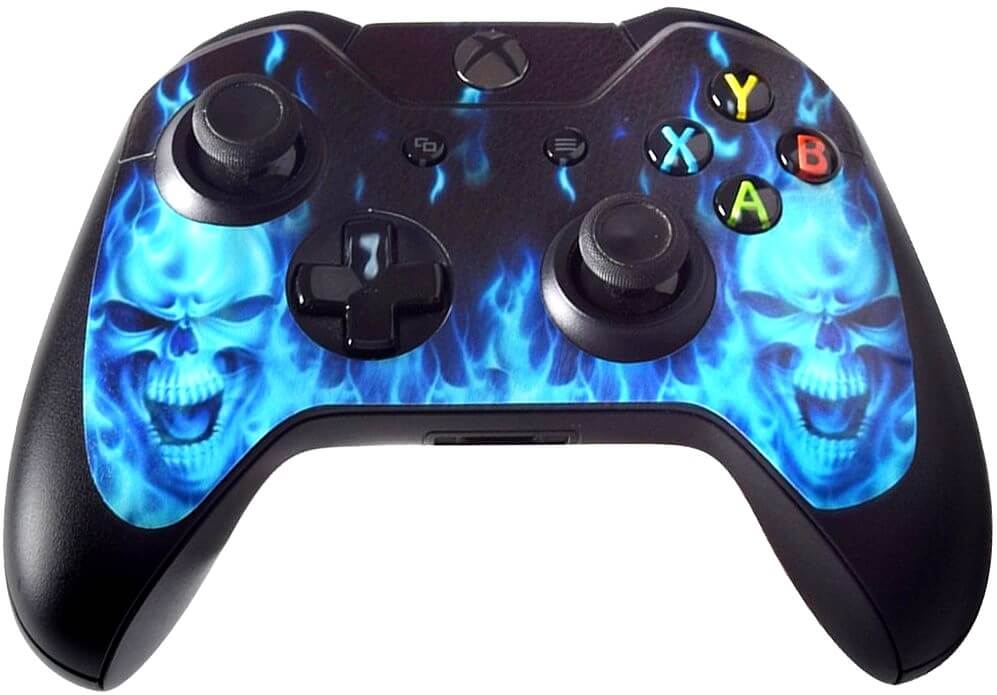 If you feel that national flags are passé, you might want to go for the Ghost Rider / Angel Rider Xbox One controller skin. With the face of Ghost Rider's 'angelic' nemesis leering up at you from your controller, your VR gaming sessions will never feel the same again.
Click here for the best Blue Daemon deals
For those of you who actually don't know who the Angel Rider is (we're not going to introduce Ghost Rider – if you don't know him, he'll be coming for you himself), here's an epic fight scene between the two supernatural antagonists…
Textured Skins
If you'd like something simpler than these skins, DBrand.com has a selection of interesting Xbox One Covers. They feature a range of textures, from leather to brushed titanium, and are an interesting alternative to those who prefer an elegant surface to photorealistic imagery. This site allows you to select a matching finish for not only your controllers, but for various other equipment and accessories.
Your Own Custom Skins
FlamingToast.com offers you the ability to create your own custom Xbox One controller skins. Just go to the dedicated page on the website, upload the image of your choice, make your choice of finish, and your custom skin will be shipped to you.