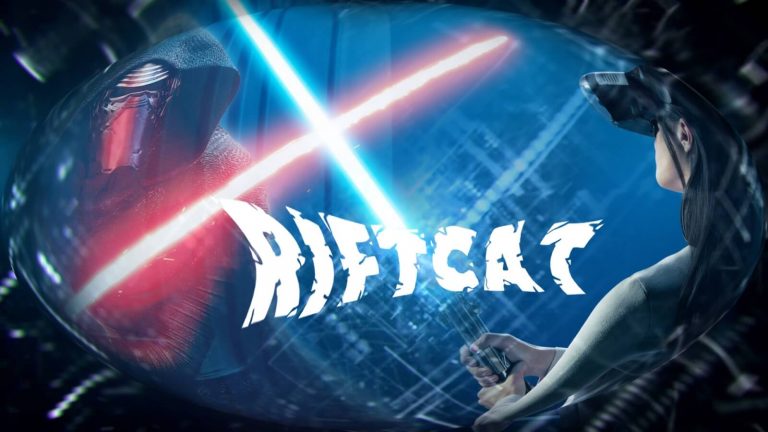 A RiftCat review is really in order, with the release of a new version of RiftCat VRidge this year. Let's take a look at the capabilities of this new avatar of the classic app for streaming games to mobile headsets.
For those of you who need an introduction to RiftCat VRidge, it's a pair of applications that allow you to play advanced Oculus Rift games on a mobile headset.
The average mobile headset cannot possibly run such games, since such headsets are usually powered by the mobile itself, and mobiles simply don't have the power to play advanced Oculus Rift games, which require a gaming PC.
RiftCat allows cutting-edge games on a low-end headset
If you have a gaming PC, but don't happen to own an Oculus Rift headset, you can still play cutting-edge Rift games on much cheaper mobile headsets like the Gear VR, or even a Cardboard clone.
The way this works is simple
You install the game you want to play on your PC, as well as the RiftCat application, which streams the game to your mobile phone. So it's really your PC handling the actual running of the game, which lets you harness all the power of your gaming computer.
Meanwhile, your phone acts as the visual device, with the help of the RiftCat VRidge app, allowing you to see the game you are running from your PC in VR with the help of a cheap mobile VR headset.
It goes without saying that both RiftCat applications need to be running simultaneously on your personal computer and your smart phone and that the link between them needs to be confirmed before you actually run any Oculus Rift game.
The link between the mobile headset and the PC can be Wi-Fi, via a network, or through an actual USB link.
Use VR controllers
Another advantage of RiftCat VRidge is that it allows you to integrate with controllers as well. It also allows you integration with the NOLO VR system, that allows for both positional tracking and advanced and multiple controllers.
An excellent starting point in virtual reality
RiftCat VRidge is considered a good starting point for anyone who wants to begin to experiment with VR, because the headset is cheap, and – depending upon the game you want to play – you can also make do with a PC with very reasonable specifications, unlike the extremely high end and expensive PC that is required by the more advanced VR headsets available today.
Riftcat VRidge Version 2
That's right, there's now a new version of RiftCat. The original version of RiftCat VRidge was downloaded over two hundred thousand times, so the release of the second version is actually very exciting.
A RiftCat Review – Features of RiftCat VRidge 2
First of all, there's a new and polished GUI. The new version of RiftCat VRidge also has the ability to alter the stream quality while a game is actually running. Sound can also be muted at will during your session.
The first version of RiftCat made registration on their website mandatory. With this new version, it is no longer necessary.
The new version has been re-coded and shows considerable stability. It supports a wide range of headsets and hardware and is open-ended, which means that additions to it can be made in future.
A complete rewrite
Perhaps the most important aspect of the new version of RiftCat VRidge is that the entire application has essentially been rewritten by the developers. Yes, that represents months of work, but the results are self-evident.
The optimization of the streaming has to be seen to be believed, and the compatibility of the new RiftCat VRidge with more hand controllers is something that really adds immersion to one's VR experience.
I might add that the developers are still working on the application and that you can expect some really interesting new features in the near future. The developers want to integrate the Riftcat VRidge system with a large number of extra devices that will all add to the VR experience.
First hand impressions
No RiftCat VRidge review would be complete without some first-hand impressions of what the actual game experience is like. Let's start with the user interface, which is little short of incredible.
The older version of the program was essentially a coder's version, with an extremely simplistic graphical interface that was essentially just a rectangle with words on it.
The new RiftCat VRidge interface uses a 3D environment in which fireworks go off as the application fires up. The interface itself is intuitive and rather elegant once the program starts. We've noticed that the interface has been cleaned up to a considerable extent and that some redundant aspects of it have been cleared out.
You connect in much the same way with version 2 as you did in version 1
However, a significant change in version 2 is that it only supports SteamVR. The first version of RiftCat VRidge used to also support the Oculus Store. However, that wasn't too reliable, which is why I assume the developers removed it.
As a matter of fact, this actually adds to how reliable the new version is, as the link with Steam rarely gives any issues. This dedicated link also makes the application that much easier to use. You just have to click on a button in the app to launch SteamVR automatically and your headset is immediately detected.
That's all it takes to play a VR game with a low-end headset using RiftCat VRidge.
While RiftCat VRidge is nominally free, in reality, you get ten minutes of gaming time in a free session. To continue to play your game, you'll need to shut down both RiftCat applications, and to restart them. Only the paid version of RiftCat VR doesn't have this limitation.
On the other hand, it only costs fifteen dollars or euros, which isn't much for a lifetime use of the application.
Controlling the quality of the stream
We mentioned that the new version of RiftCat VRidge allows you to carefully set and choose what quality you would like the stream to be.
This is very important because if your stream is of very high quality, you, of course, have a more immersive experience. On the other hand, if this quality is set too high there may be a considerable lag.
Just how high you set the quality of your stream will depend upon the specifications of your computer and – even more – on the quality of your connection.
If you have a very stable connection and a high-end PC, you can stream in high quality, but if you have a connection that isn't too reliable, you will have to tweak the parameters a little bit until your VR experience is completely free of lag.
The strength of the new RiftCat VRidge version is that it actually allows you to tweak this parameter and obtain a lag-free VR experience.
Do note that you will definitely have to purchase a NOLO VR package to truly enjoy your RiftCat VR experience, as without the tracking and the controllers the experience is more or less like looking at a VR movie. However, with NOLO VR, and the tracking and controllers, you can achieve a truly immersive experience.
NVIDIA's Moonlight – and RiftCat
Perhaps everyone isn't aware of it, but NVIDIA cards actually have an integrated streaming solution that allows their cards to stream from a personal computer to a mobile phone.
This solution is called Moonlight, and it is absolutely the most optimal PC-to-mobile streaming solution around since it is actually integrated into the hardware.
RiftCat benefits from this…
RiftCat VRidge actually integrates Moonlight into the application to assure you of superbly optimal performance.
Our impression of the second version of RiftCat VRidge is that it is a very convenient and cost-effective path to virtual reality. In its standalone version, it gives you a perfectly satisfactory basic VR experience.
However, if you add in the NOLO VR package you achieve exceptional tracking and the ability to use more than one controller, which makes this experience both cheap and extremely immersive.