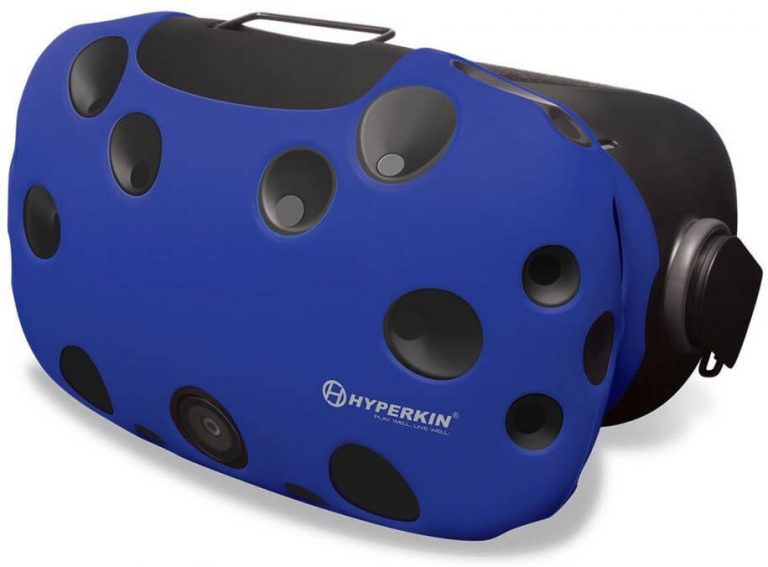 It is a fact that the HTC Vive has only grown in popularity since it first came out in 2016. This has lead to the creation of a huge amount of side accessories and covers that let you customize your virtual reality headset as you most like.
As for the covers, you can find sticker-like packages that decorate controllers, the headset, and even the base-stations; however, these don't have any functionality other than to make your gadgets more visually appealing.
Similarly, silicon skins can also be found. Among these, the HyperkinGelShell skins are the most commonly bought as they come in different colors and are quite affordable. Here are some of the best and worst aspects of these HTC Vive Skins, as well as other tips you should keep in mind before buying them.
General Features
The HyperkinGelShell skins for the Vive can be bought to either cover and protect your controllers or the main VR headset. The controller package comes with 2 separate skins in the color you chose, which can be white, gray, red, green, or bright blue.
These HTC Vive controller skins will easily add durability to your gadgets while also making sure that the sensor is clear enough to connect and not interfere with the games. The skins are made of a thing yet high-quality silicon and they are specifically designed to keep your wands from breaking apart when they fall down.
Likewise, the material used for the construction of these skins offers a nice, secure grip, letting the user feel safe even when their hands are sweating from the excitement of playing. After all, Virtual Reality games are normally very active and will frequently end up in sweat.
Check out Hyperkin GelShell HTC Vive skins on Amazon
Price
These HTC Vive Skins are super affordable and cost a little over $20. The box brings 2 skins and they will not only make sure that your wands are not scratched but they also prevent dust from getting into the small, open places in the controllers.
Design
They fit the Vive controllers perfectly. They are harder than you might expect and will definitely add a sleek and sci-fi vibe to your wands. Depending on the color you choose from, you can also buy the skin for the headset and make them match or mismatch on purpose.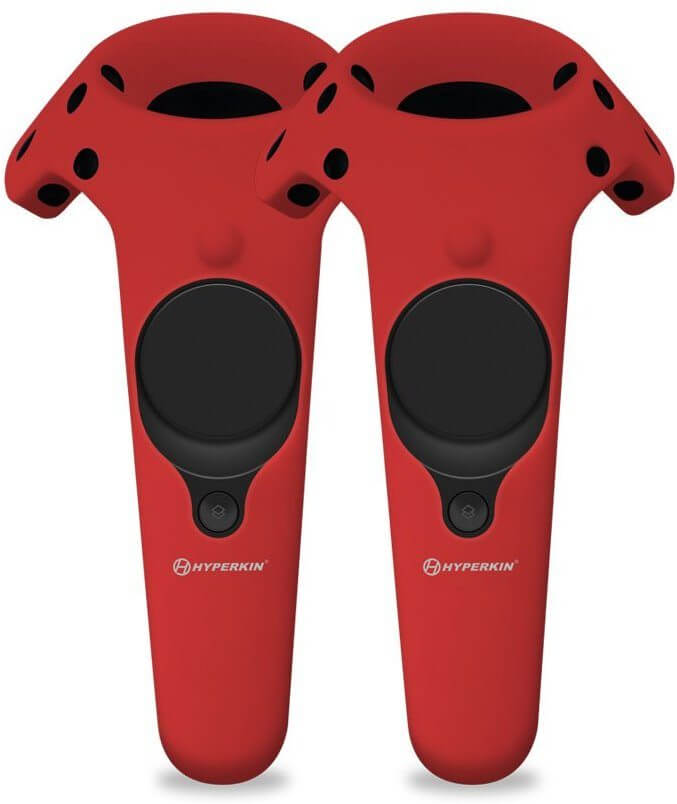 Installation
Covering your wands with these HTC Vive Controller skins couldn't be easier. There isn't anything that you should know before simply doing it. They just need to be pushed over the controllers and the will immediately fit around it. Everything goes right in place and it feels like a secure skin that won't fall off anytime soon.
Comfort and Grip
The skins are not thick enough to cause any discomfort. In fact, they are quite soft to the touch and will prevent sweat from making the controller slide down to the floor. These HTC Vive skins also cover the buttons on the wand safely while still letting you press them freely.
As for the grip, these might not be the perfect skins and they could still slip around the controller but it will never slide off the controller.
Check out Hyperkin GelShell HTC Vive skins on Amazon
The Best
Affordable price to protect your wands from dust, scratches, and bumps
Several colors to choose from let you customize your HTV Vive controllers and headset however you want
The HTC GelShell skins fit nicely and prevent the controllers from falling down. Particularly good for those who play active games where sweating could happen
They have been designed to allow the sensor to read your controllers as they don't interfere with the signal
The Worst
The skins cover the buttons on the controller so if you are a beginner in the HTC Vive world, you will lose some time before remembering which button does what
Some might consider that the color range is too small yet
They won't protect your controllers from the worst accidents, only from daily wear and tear
Conclusions
The HyperkinGelShell HTC Vive skins are a great addition to your Vive accessory collection. They are super soft, lightweight, and affordable enough to convince you to try them out, and with them, you can rest assured that you won't see as many scratches on your controllers as you would if they weren't covering them.
Sure, there might not be too many colors to choose from and not everyone will like the bright blue, but the white and gray will undoubtedly make your wands look better and feel better when playing, as the grip improves once they are on.
In conclusion, these are a great pair of Vive controller skins that you can buy if you are on a budget: they will do the work effortlessly and take care of your wands, too.