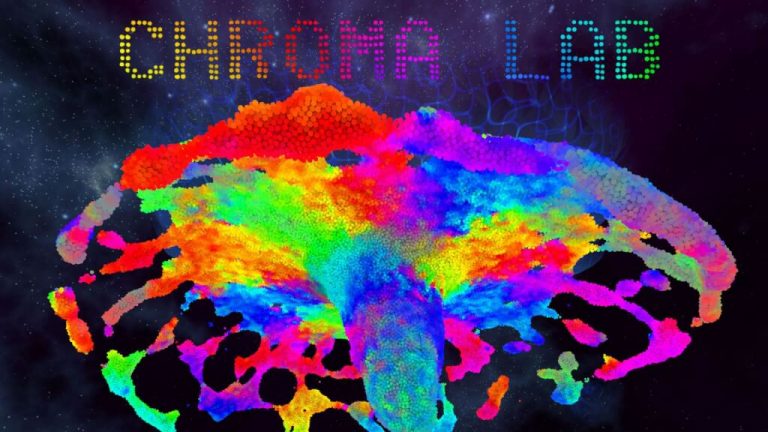 Chroma Lab is a highly interactive and immersive particle simulation, available for $5 on Steam for Oculus Rift and HTC Vive. To cite the developers – "Chroma Lab is a VR particle physics sandbox" – in other words, you are, in real time, enabled to play around with hundreds of thousands simulated particles using your motion controllers.
Chroma Lab is a virtual eye candy featuring psychedelic visuals and, with very simple idea and perfect execution, this game is truly mind-blowing.
It does however have one major drawback – the music is nonexistent.
Luckily, you can listen to whatever you want on your PC while playing, enhancing the experience, and while this is a matter of personal taste and preference, here are some of VRBorg's suggestions on what to listen to while using Chroma Lab!
Pink Floyd – The Dark Side of the Moon (full album)
https://www.youtube.com/watch?v=5DLreOgMIOQ
Do we really need to explain why the Pink Floyd's most well known album and interactive psychedelic visuals go together like bacon and eggs? Well, let's just add that this album still holds the absolute record of the number of weeks spent at the #1 of Billboard-s top albums chart, and it was officially selected as the the best album of the 70ies, and yeah, this is the decade when the competition was the fiercest.
Additionally, Chroma Lab works really great when you want to introduce someone to the world of virtual-reality for the first time, and if that special someone is for example your dad, we are pretty sure he would appreciate some the Pink Floyd's greatest hits, like Wish You Were Here or Another Brick In The Wall, playing in the background!
Infected Mushroom
Infected Mushroom is an Israeli electronic music duo, mostly creating electronica, psytrance and psychedelic music. Most of their compositions include variety of musical sources and often changes of tempo and drum beat. Often times their songs contain acoustic guitars like Becoming Insane for example.
Psytrance and electronica are definitely a great choice to listen to while using Chroma Lab. Infected Mushroom however likes to experiment between the genres, so you can find traces of house, electronic rock and even hip hop in their work. They are one of the best selling groups in Israeli music history, both domestic and worldwide.
Faithless paired with Chroma Lab
Electronic music pioneers explored and crossed over between almost every musical genre known to man. Yes, they essentially create electronic music, but they can also be classified as trip-hop or electronic rock band. Faithless' live performances feature entire band playing – the bass guitar, various drums, keyboards, electric guitar, and of course the band's MC – Maxi Jazz, who brings unique kind of energy to each of the live acts.
An often time overlooked fact about Faithless is the top-notch quality of their lyrics. Honestly, I'd speculate that even the greatest rock bands in history would be proud of Faithless' songwriting. This is due to the fact that Maxi Jazz used to be a rapper before he formed the group with Sister Bliss. Even after years of listening to them, even today I discover some messages between the lines of their lyrics.
Honorable Mentions
Have in mind that the music you'd want to listen to while using Chroma Lab is a matter of personal taste. Many users report that they enjoy trap music or dubstep while using Chroma Lab, however I do not listen to these so I am unable to recommend any songs of the genres.
Here are another few of my personal favorites.
Massive Attack
Kollektiv Turmstrasse
The Prodigy
Techno Live Sets
My personal top pick is this crazy live performance by Nina Kraviz at the Exit Festival Dance Arena. Enjoy!